The kitchen has long been a home's central gathering place. But as we're working and playing inside more than ever, the kitchen is getting some serious competition from the great room. Find out how you can make this new favorite spot even greater.
During the day, we're retreating to our separate corners to get work done and trying to find quiet areas. But after teleschool and meetings are finished, the great room is where much-needed relaxation takes place. For TV watching, catching up and breaking out board games, great rooms make great gathering places. Anthony Wilder architect, Sean Mullin, AIA, and Certified Lead Carpenter, Mike Marion, CLC, bring you six ways to enhance the most popular room in the house.
1 Change it up – Rearrange furniture & add wall decor
"To have the whole family in that one room used to be kind of rare," says Sean. But no longer. His advice for an easy, practical way to make the great room more livable? A simple furniture rearrangement.
"People are adapting on the fly, trying to keep things interesting so they don't go bonkers. It's time to move furniture. In my house, we added a simple card table and as a family, we are working on a 500-piece puzzle. It's about creating little areas in a larger space."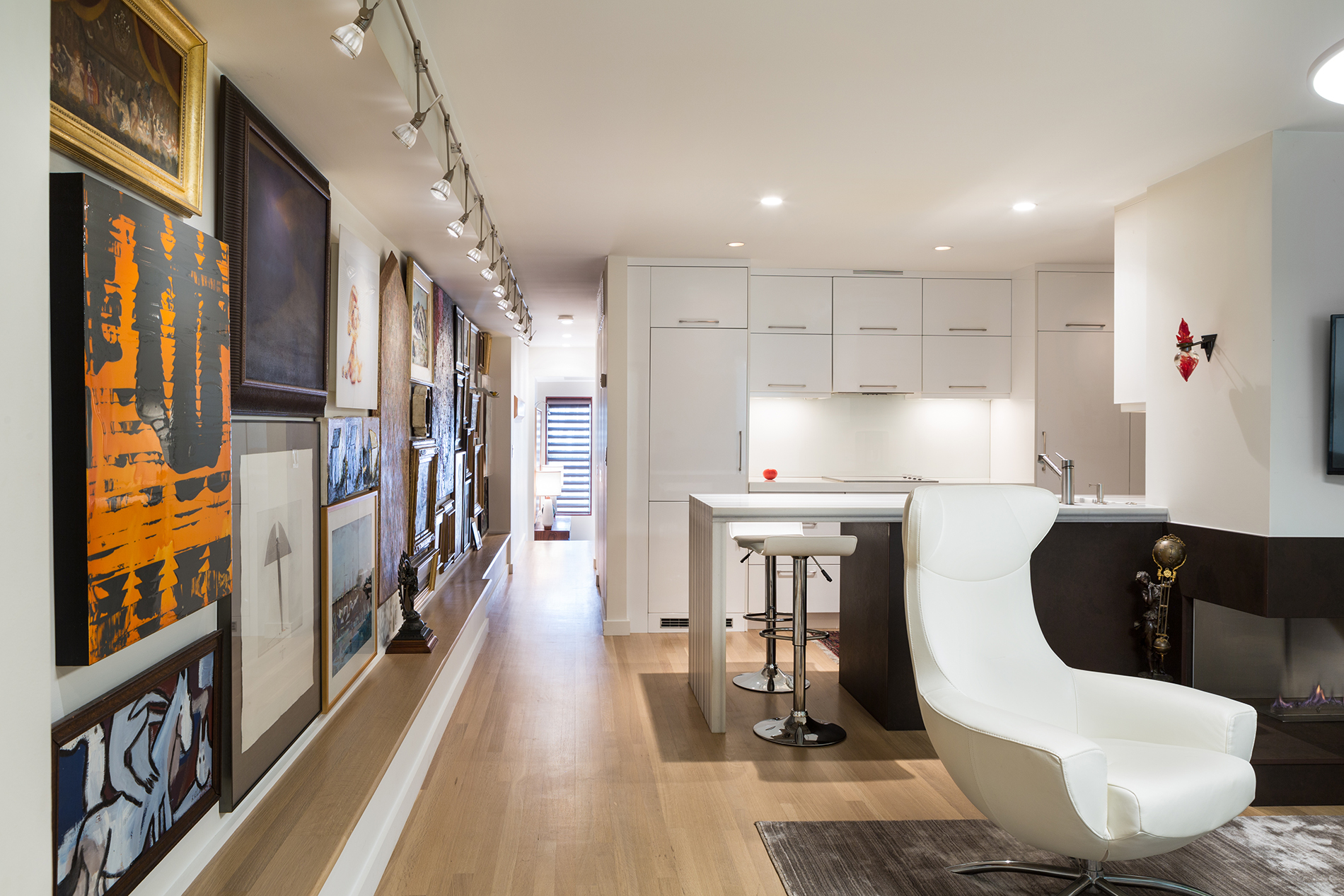 Rearranging furniture is a great way to refresh your space. Another way is to install artwork on the walls. "When you are surrounded by things that are visually appealing to you, it improves energy and mood," adds Sean.
2 Create an impact – Invest in the details
You don't always need to knock down walls to have an impact. You can revamp a room by adding details like a coffered ceiling. "For a recent project, we installed a tray ceiling and added a fireplace to complete a new look," says Sean.
Sean's pro tip: "If you want the great room to be a destination space, add something that will draw people to it."
3 Hide the clutter – Create built-ins
Anyone else "Marie Kindo-ing" their whole house? For those looking to declutter a great room, built-in shelves and cabinets are the best solution (next to purging). Built-ins can be erected fairly quickly (depending on structural requirements).
"We are working with a client who had built-ins that were dated and were not functional for their storage needs. We updated the built-ins and added fresh light paint. It makes the space feel brighter and more inviting," says Mike.
Built-ins also hide everything from toys to TVs. "You can install retractable TVs that drop down into custom cabinetry, or build doors to cover it," says Mike.
And while it might not seem like it, built-ins can provide both storage and light. On a recent Bethesda, MD renovation, the Anthony Wilder team designed shelving with several units punched through to create a connection between the great room and the living room.
4 Bring natural light in – Add windows & doors
There are many ways to add natural light, but none more effective than glass. For that wow factor, and to infuse a space with natural light, add more windows to a room. Simply changing a room's opening can expand views and add light. This adjustment could take as little as a few weeks, while a more custom solution may take months. "Every space is different, to find out how long it might take, consult with an architect," says Sean.
"There are less expensive ways to add glass, like French doors and sliding glass doors, and more expensive ways, like folding accordion doors that give you a big opening from the great room into the outdoors. But they all help blur the lines between indoor and outdoor space," says Sean.
Mike notes that one way to double the size of your great room is to have the room open up to a deck or patio. The team recently created a three-season room in conjunction with a deck, firepit and grilling area. A glass garage door separates the spaces with a unique design that allows the homeowners to open their space to the outdoors with the click of a button. "It's a very versatile space. In the morning, they even use it for yoga."
5 Reach for the sky – Heighten ceilings
If adding windows or doors isn't an option, you can achieve the feeling of having more space with higher ceilings.
Of a recent project, Mike says, "We created a great room for a client which had very high ceilings. My client had just gone to New York to pick up her daughter so that she could be in quarantine. She had to be in quarantine in the basement for two weeks. When she came out, she went right to the great room, saying how inviting the ceilings made it and how much space it had."
6 Mix and mingle – Adopt an open floor plan
From a flow standpoint, a lot of great rooms are open to the kitchen. Combining the two spaces makes the area more conducive to entertaining and socializing.
"We've had several clients who wanted to open up their kitchens to their great rooms because they've become more social in their cooking efforts," says Mike. "Great rooms are social rooms."
June 9, 2020 | Categories: Living