Kitchens continue to be at the forefront of remodeling requests among design build, architecture, and interior designer firms. Whether in a new custom home, modern farmhouse or historic restoration project, Shannon Kadwell, Master Kitchen & Bath Designer at Anthony Wilder Design/Build, says that kitchens are now cozier and warmer than ever. "Our clients in the DC region are steering away from glossy finishes and sharp edges in the kitchen and saving them for that pop of interest in more formal areas like a dining space or powder room," Shannon adds. Larger windows in kitchens and adjacent rooms allow those working from home to connect with nature. Shannon outlines some of the interior elements below to consider when embarking on a kitchen remodel.
Pantries
Large open pantry rooms where you can see everything all at once and where you can store bulk items are still popular. Many pantries are constructed with a second beverage cooler and microwave and might include the family command center. Think about eliminating items never used or no longer needed and investing in high-quality, well-made items that will last, instead of the fad gadget or single-use/disposable items.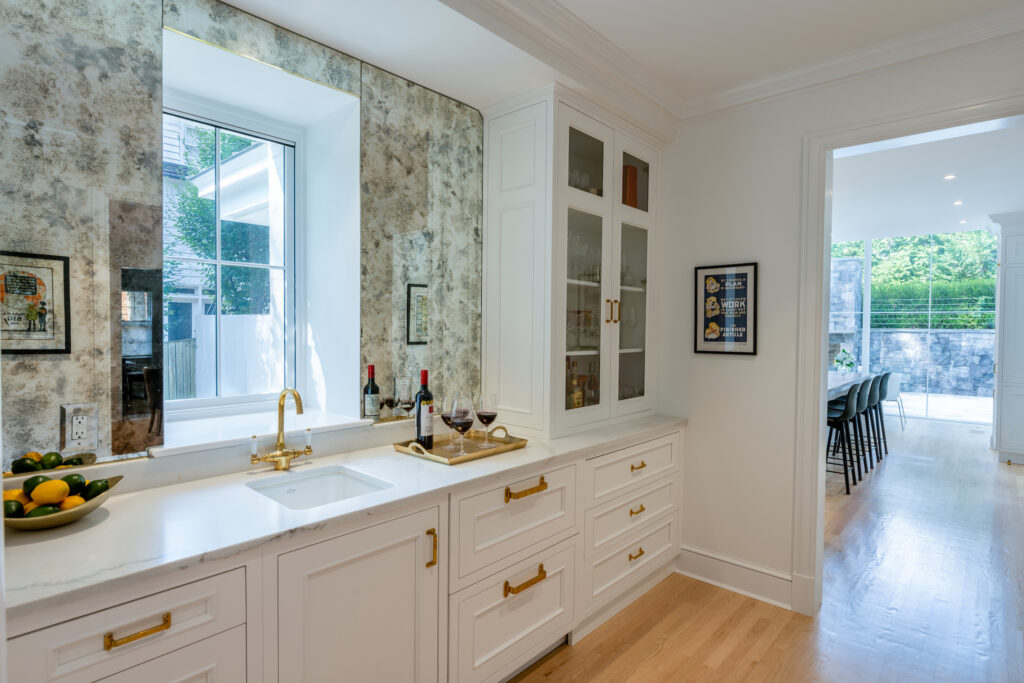 Large Islands
Many homeowners are opting for larger kitchen islands to accommodate dining and entertaining directly in the kitchen rather than a formal dining room. The islands might include undercounter beverage refrigerators, microwaves, second dishwashers, prep sinks, and even a second trach pull out. This creates a serve-yourself area that keeps the traffic flow clear.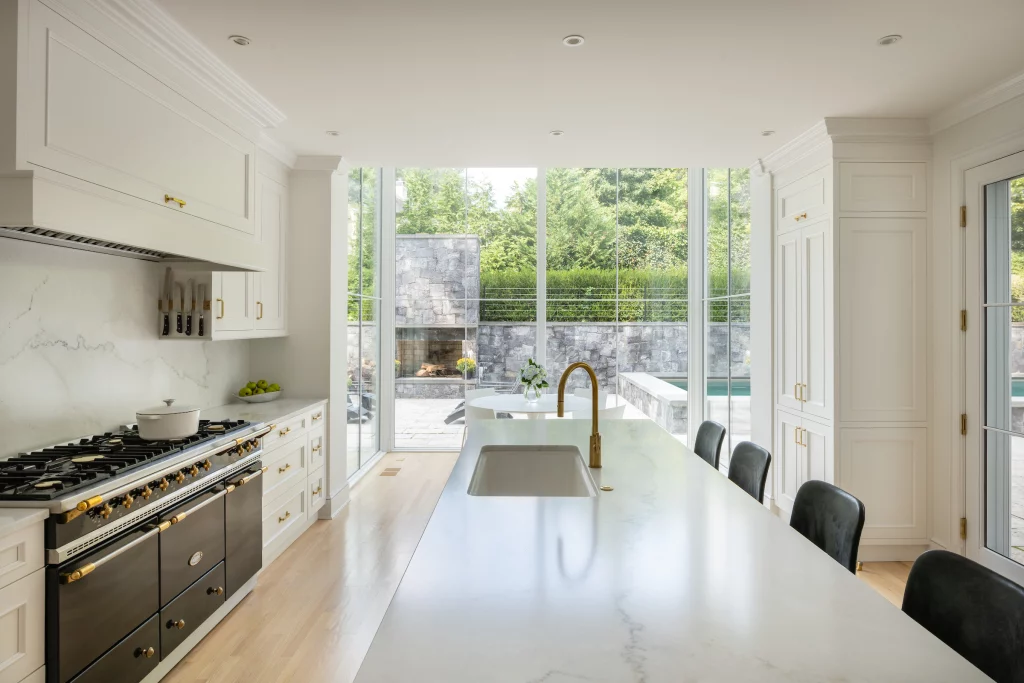 Appliances
Architects, designers, and contractors work with homeowners to thoughtfully select each element of their kitchen renovation, including appliances. The features and functions of appliances should be geared toward the client's needs, both today and in the future. For instance, owners are now considering two dishwashers, multiple beverage and wine coolers, coffee makers, such as built-in or crafted customized spaces, and secondary steam or speed ovens. Preheating ovens via mobile devices, wi-fi connectivity, and automatic updates, like switching to daylight savings time, are all commonplace.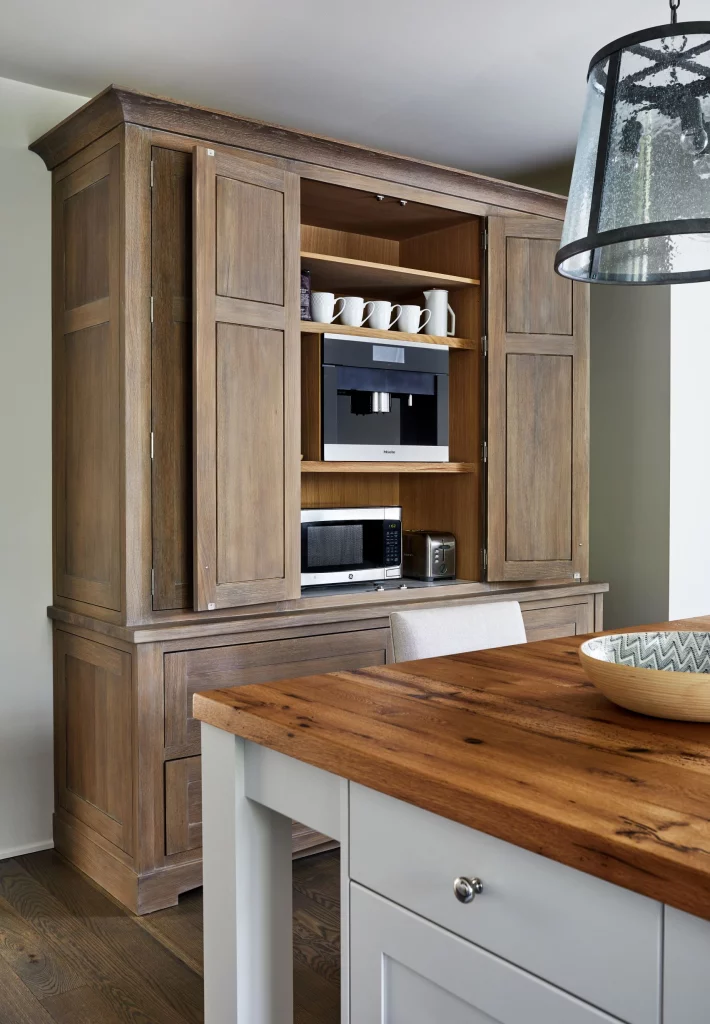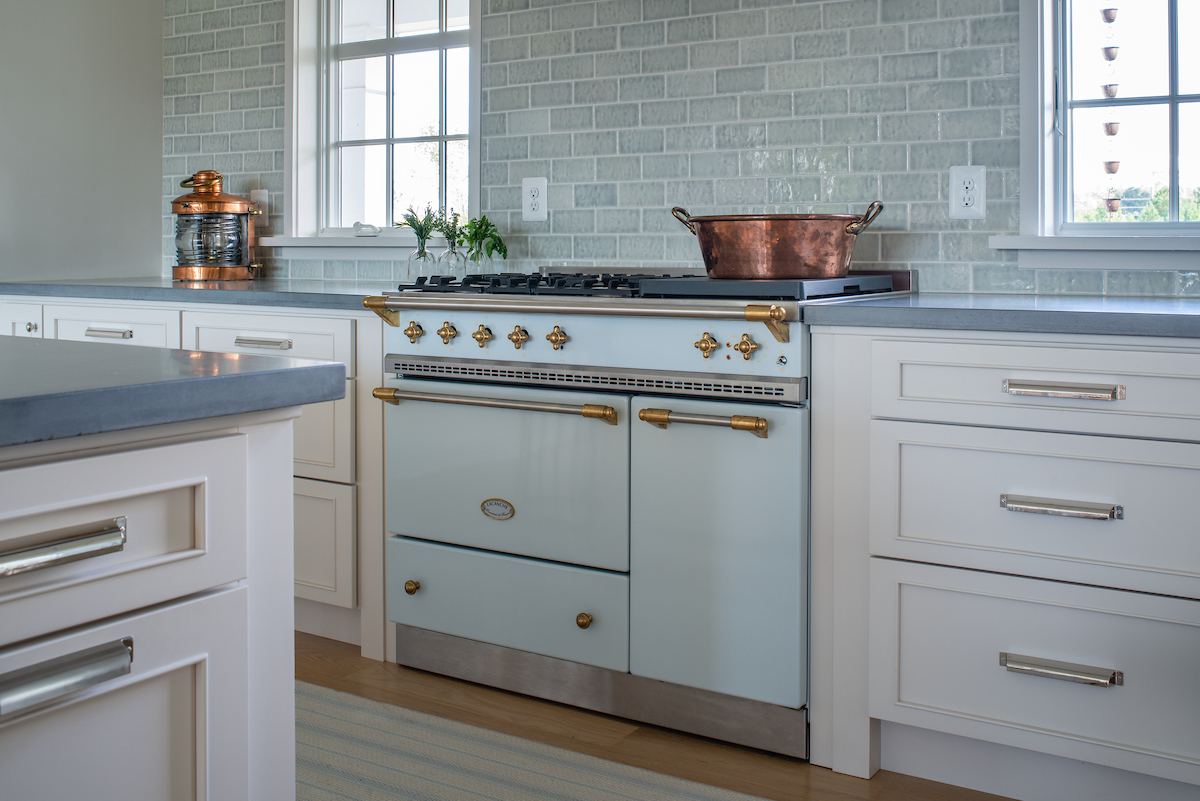 A wow-factor range, such as La Canche, La Cornue, and Aga, are becoming not just showcase items in the kitchen, but also highly functional with more updated features in the US market.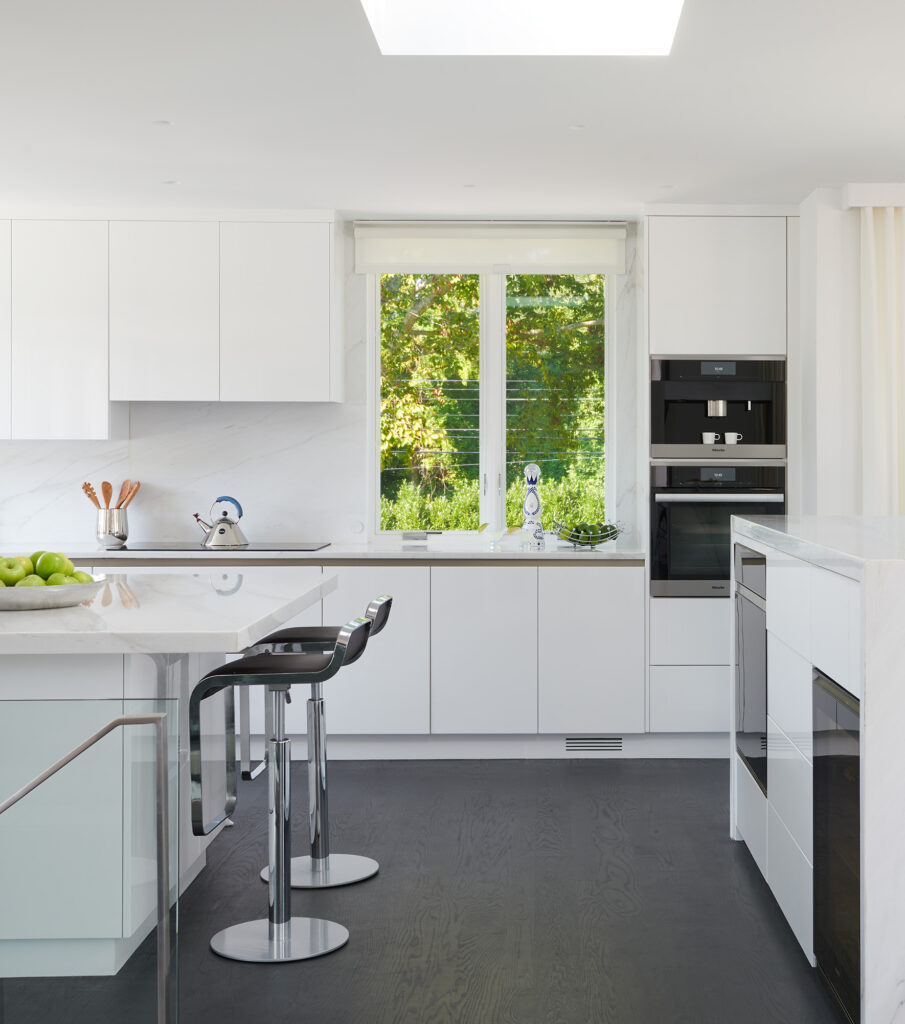 Cabinetry
More natural and neutral tone cabinets in blues, greens, and creams are being introduced in complementary ways. The use of raw materials like wood, iron, brushed brass, bronze, and artisan glass are being layered into the good bones of a white kitchen. When considering your kitchen design, adding texture around the room on ceilings and walls with shiplap, handmade tile, and raw wood accents can warm up a kitchen and create a more casual, relaxed design. Even mixing cabinet styles and finishes can give a feeling of nostalgia by personalizing the kitchen with an elegance that delivers a visually calming feel to the renovated space.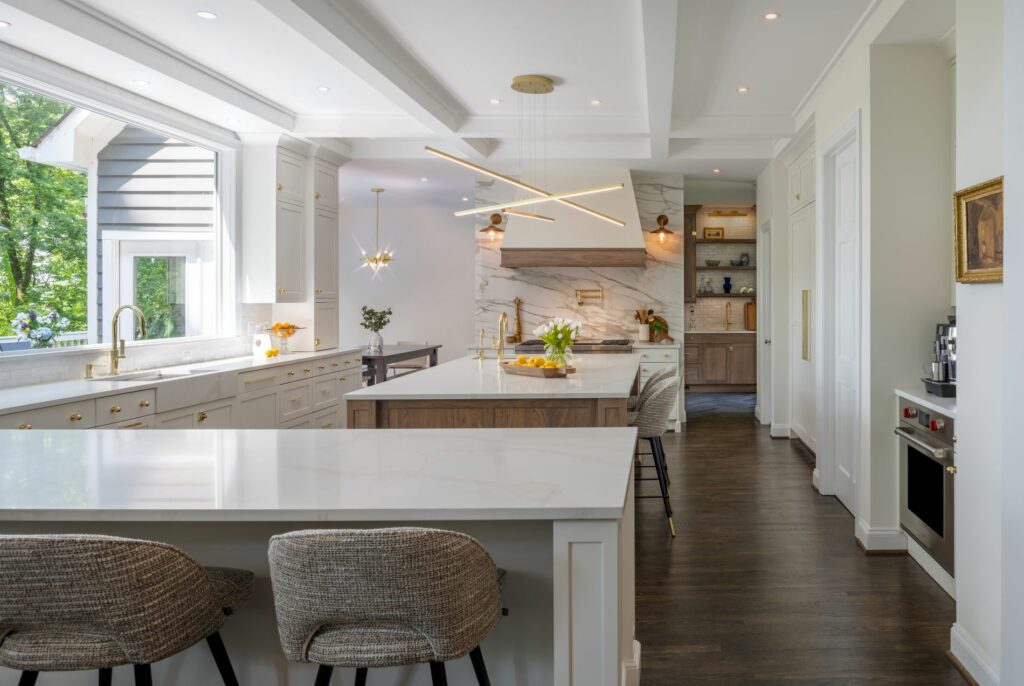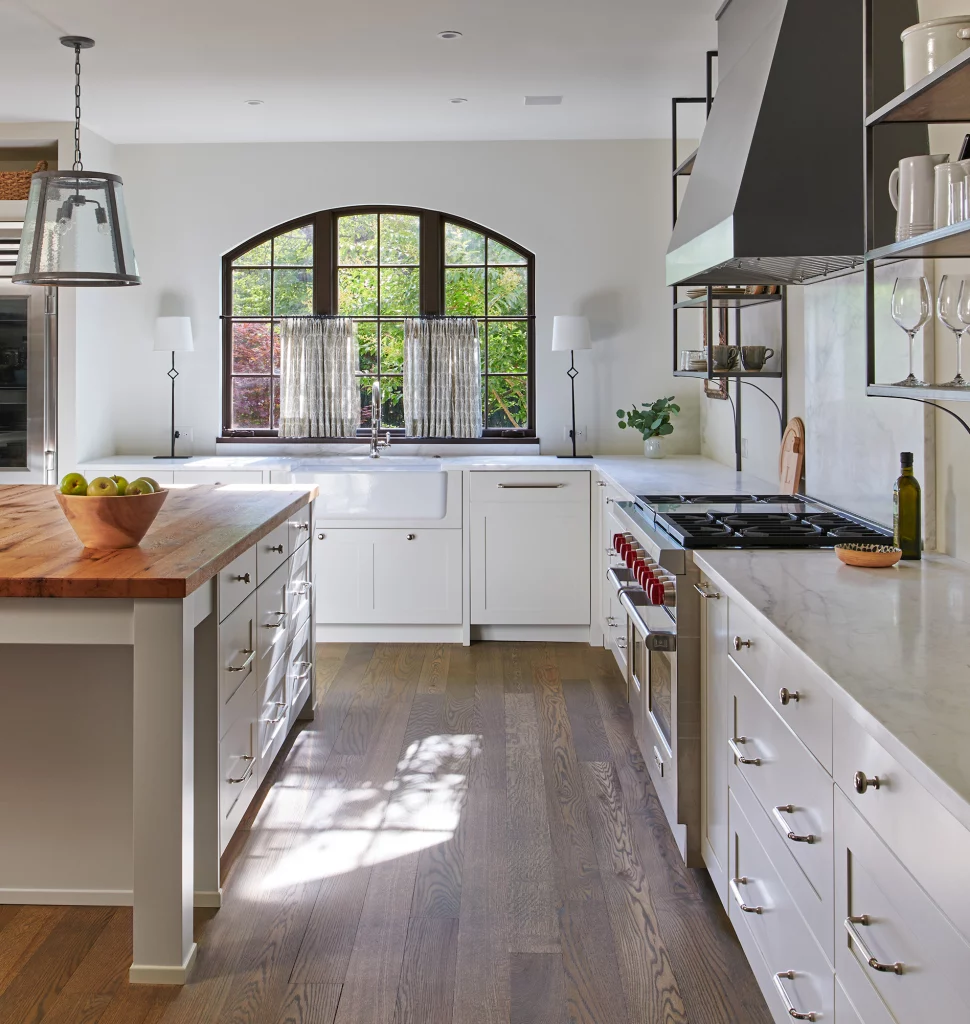 Countertops
When selecting a countertop material, consider what you can and can't live with as far as stains, dents, and scratches. All counter materials are not created equal so discuss your tolerance level with your kitchen designer. Remember marble has been used for centuries for kitchen counters, floors, and even monuments. It is meant to weather and age; that's part of its beauty. Don't be afraid of the scratches or dings that might accompany late nights with guests or prepping for a big family meal. If you want a surface that can withstand heat, consider quartz in both polished and matte finishes. Some are even oversized to avoid seams typically needed with standard-size stone slabs. Quartz is becoming the most popular material for countertops with its non-porous, stain-resistant, maintenance-free properties it offers.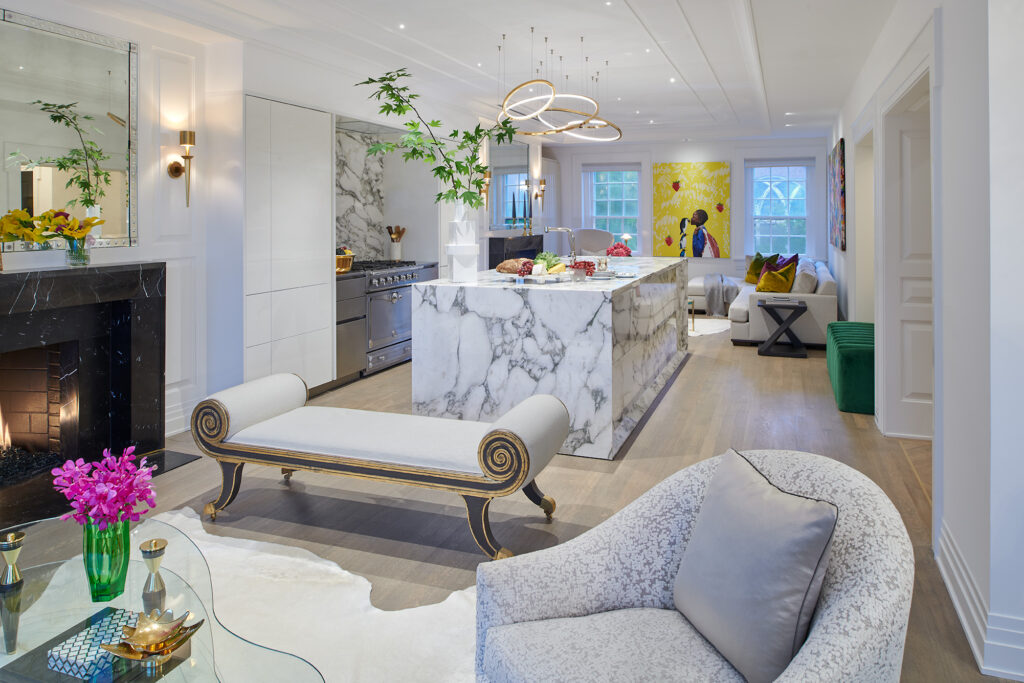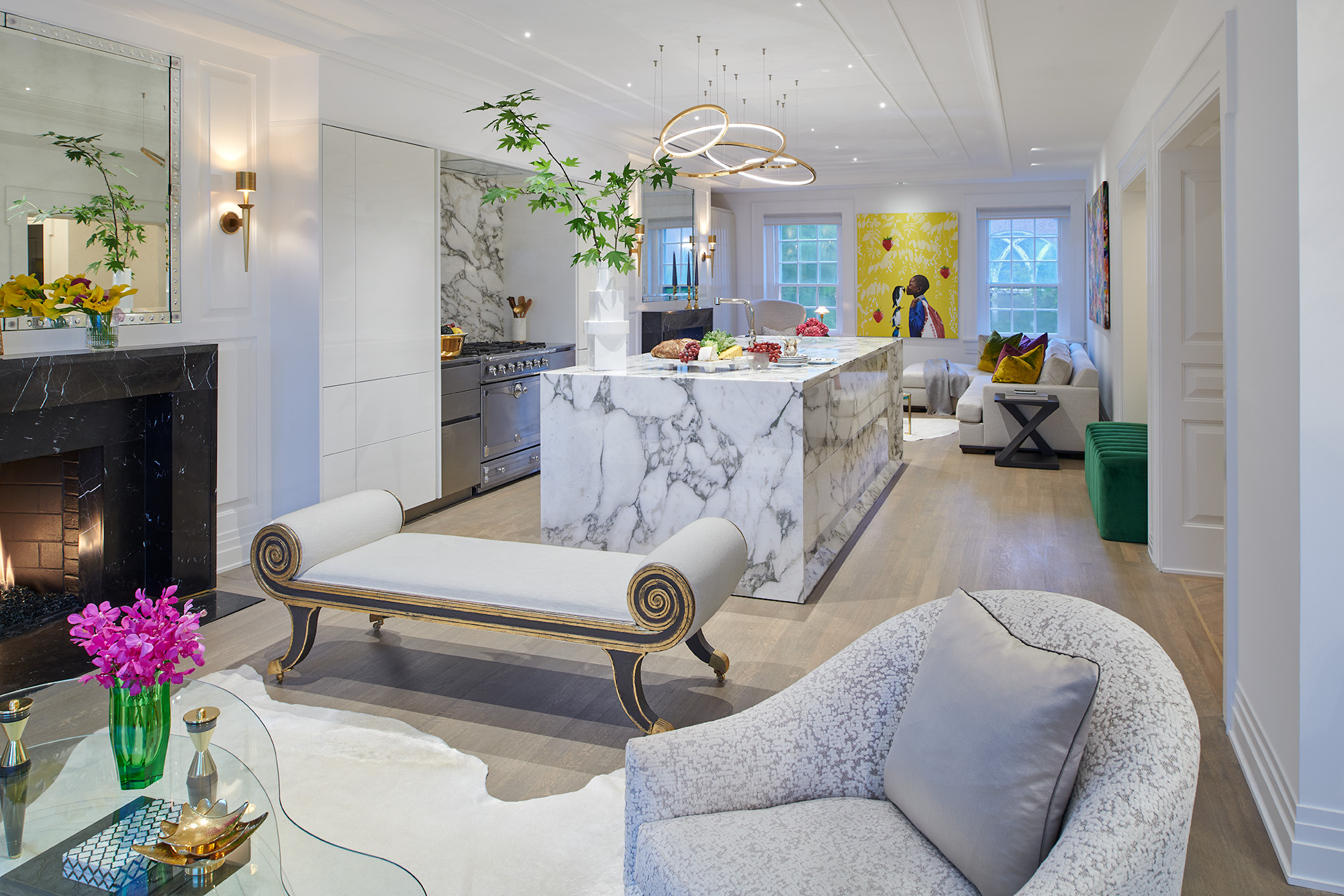 Workstation Sinks
A workstation sink combines traditionally separate areas of your kitchen and consolidates them in one place. It maximizes the functionality of your kitchen by adding built-in accessories that slide on integrated tracks in the sink. One of the biggest benefits of a workstation sink is that it can free up counter space for other uses or items. The ability to chop and prepare directly over the sink, keeping different kinds of foods separate, and still being able to wash dirty items in the same location helps reduce the risk of spreading germs on all your kitchen's surfaces. The most popular accessories for these stations are the cutting board, colander, and drying racks.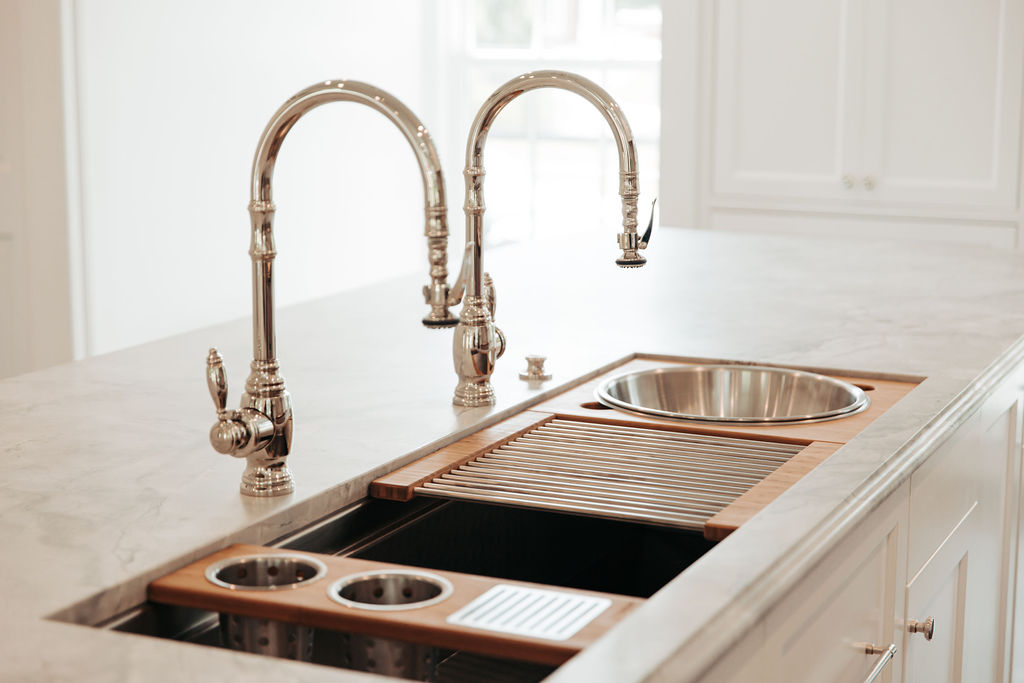 Faucets
Brushed or satin finishes are still popular, but with more warmer tones, such as gold, brass, bronze, and oiled finishes.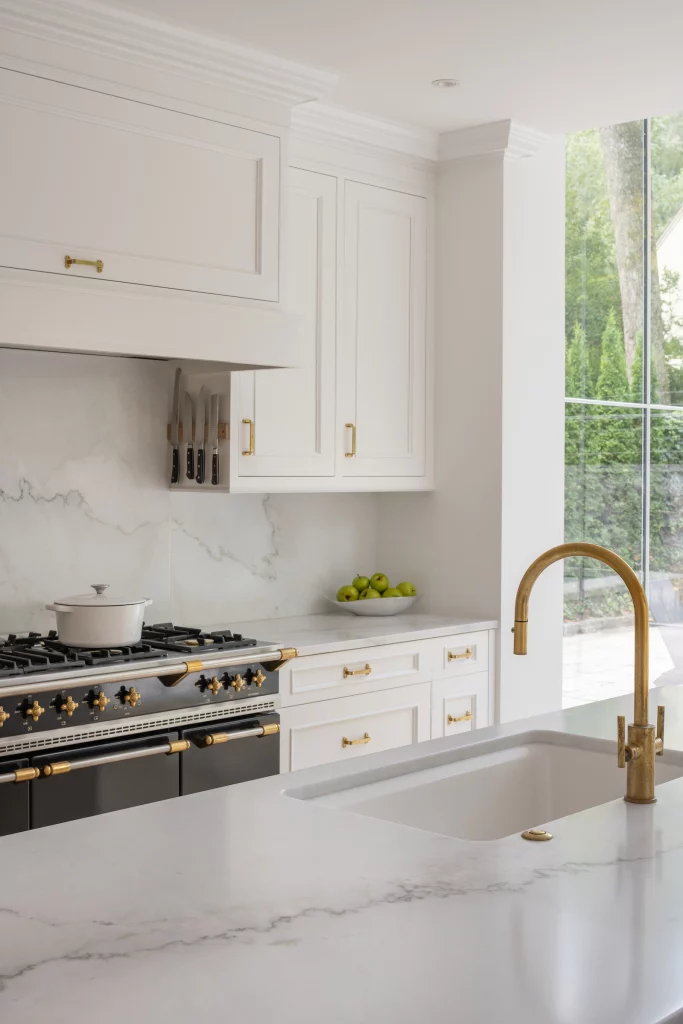 HydroTap – A Hot New Item
With health being a big focus right now, consider turning your ordinary tap water into chilled or sparkling water. Zip Water HydroTap or Grohe Blue offers this option. It saves on purchasing bottled waters, plus you have control of how much effervescence you have in your drink. You do have to plan ahead, though, as the tank takes up space and needs to be vented.
Lighting
When considering your kitchen design build project, think about how you can layer your lighting. To start, build from your choice of recessed lighting for overall light and go from there. Each fixture has its role to play in a kitchen. For instance, pendants and under cabinet lighting are used for tasks, such as cutting, reading, or cleaning, while interior cabinet lights and wall sconces affect the kitchen's mood. Sconces are more artistic and sculptural works of art on the wall with the lighting being a secondary need.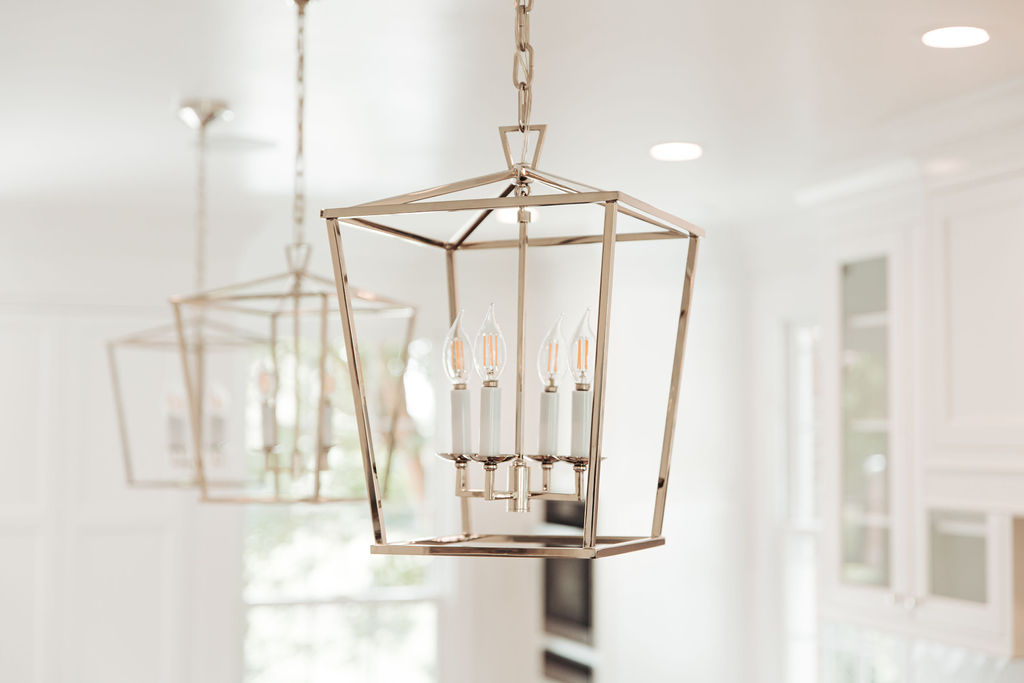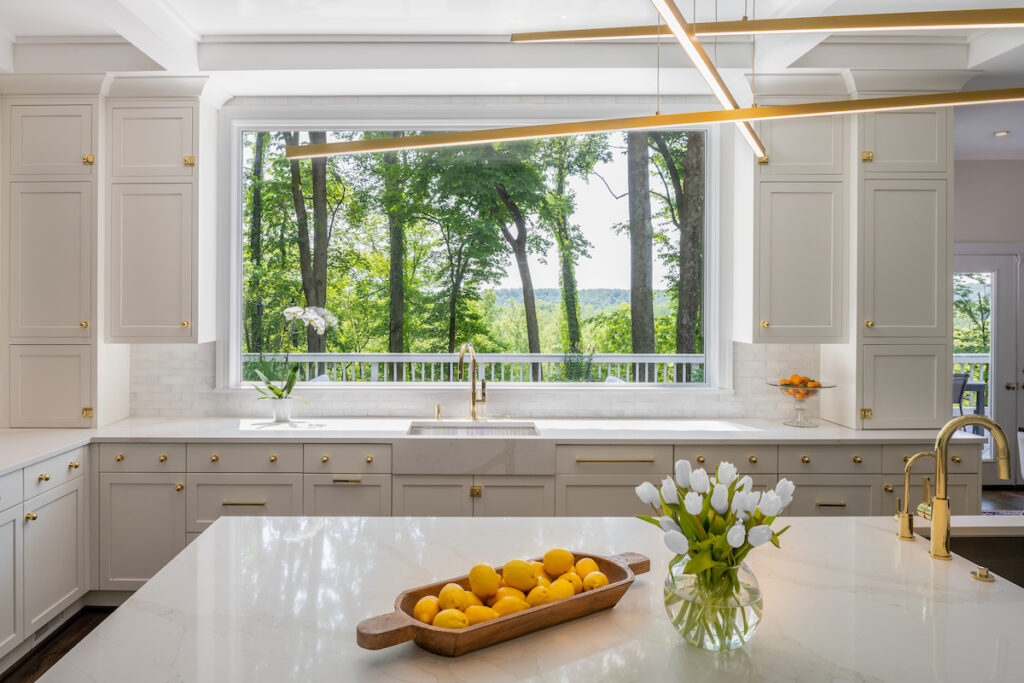 Island pendants are more open-framed, delicate free-flowing styles as to not block views, yet still provide creative and visual appeal.
Hardware
Decorative pulls, knobs, and latches are being mixed on cabinetry in kitchen remodels, along with finishes in warmer tones of bronze, brass, and copper. In kitchen design, it is important that these elements are comfortable to use, as well as being decorative. These small but mighty items are the jewelry of a kitchen and can elevate the design with a fun finishing touch.
For more design tips, watch Shannon on NBC NEWS4 Washington as she discusses The 2023 Kitchen Trends to Watch.
View more Anthony Wilder kitchen designs here.
September 22, 2023 | Categories: Kitchen