Our homes have become our havens, and we've got outdoor spaces on our minds. From decks and firepits to arbors and living green walls, there are many ways to turn your yard into an outdoor getaway. Read on for tips from our founder, Anthony Wilder, and lead architect, JP Ward.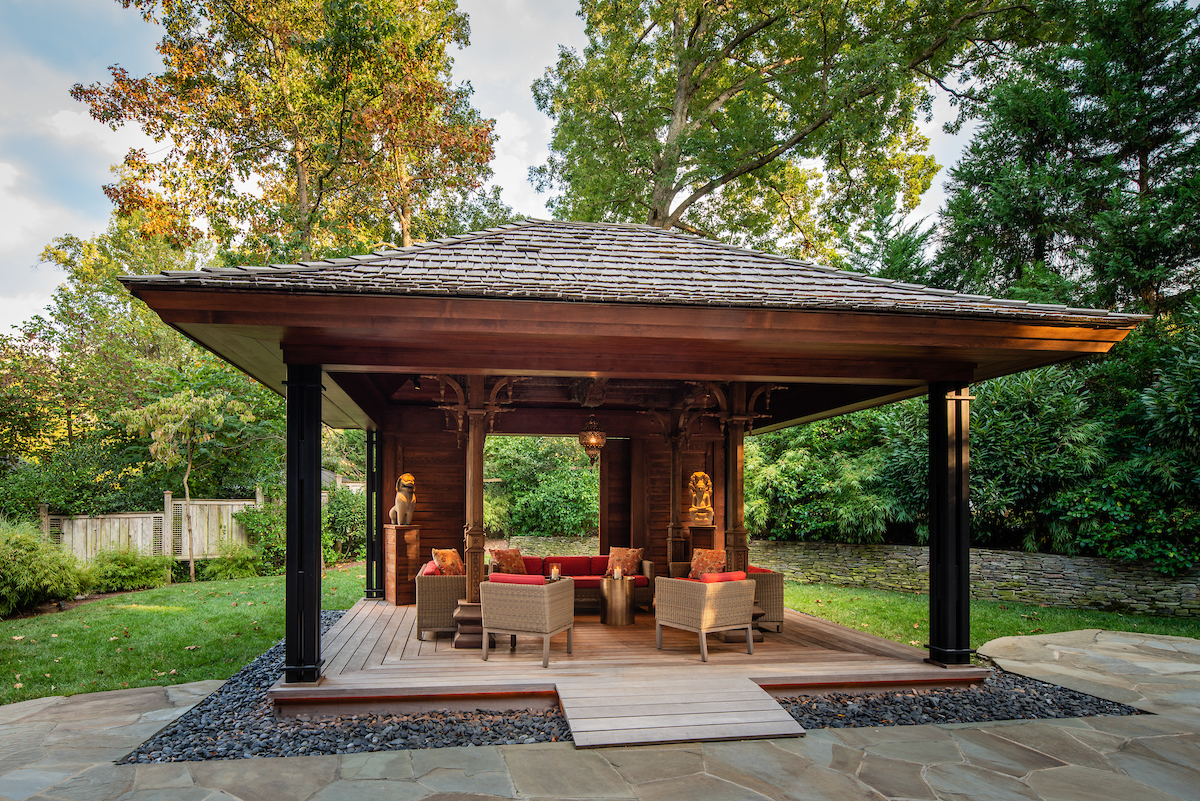 Spring is here. There are many ways to make your home's outdoor areas even more inviting, from porch and deck additions to smaller landscaping modifications that can transform your outdoor areas into an extension of your home. Anthony Wilder and JP Ward have five different ideas to spruce up your outdoor spaces.
1. The sky's the limit with an arbor deck
Arbor decks serve a similar function as screened in porches, but they can be built faster and come with a lower price tag.
"With rafters overhead, an arbor gives you a similar sense of enclosure. And when designed well, they can integrate seamlessly into the house," says Anthony.
On a recent project in Washington, DC, the Anthony Wilder team added outdoor ceiling fans —that can withstand rain and snow— to the trellis area of the arbor, which can lower temperatures as much as 20 degrees and keep the bugs away.
Arbor decks, which can be relatively quick to build, also have staying power. Since all materials are synthetic -such as AZEK PVC- they won't warp, making them durable and low maintenance.
2. Keep cool with a living green wall
While living on a few acres sounds idyllic, that's not reality for many. If you're looking to gain a little privacy from your neighbors, consider putting up a privacy screen that couples as a living green wall.
"Landscaping and construction are tied together," says Anthony. "A verdant privacy wall is a great solution that doesn't take long to build. And it can make the temperature of your outdoor space feel 15 degrees cooler."
3. Create an outdoor living room with a fireplace
From fire pits to fireplaces, nothing says outdoor living quite like gathering around one with family.
"A fireplace is a natural gathering space. For a recent project in Potomac, we designed a deck and staircase to a stone fireplace. The clients have a narrow yard and situating the fireplace and patio at the base of the stairs creates a natural extension of the deck" says JP. "Now, family and guests can gather at the dining area on the deck or around the fireplace without feeling isolated from one another."
A double-sided fireplace creates multiple, delineated, outdoor living spaces.
For a quicker solution, fire pits do the job nicely. Anthony recommends smokeless Zentro fire pits so every seat around it is the best seat in (or outside) the house.
4. Create a serene space with water and landscaping
Water and landscaping can breathe life into a space. "We use a holistic approach for clients, so that when we're finished, it feels like they moved. They have a true garden getaway," says Anthony.
"Water draws people to the outdoors," JP points out, as does well-placed lighting and thoughtful landscaping. "Good exterior design catches your eye and energizes you when you walk outside."
5. Put your best face forward with a front terrace or updated portico
While backyards tend to get the most attention when it comes to exterior renovations, outdoor gathering spaces in front of a house have a charm all their own.
"If you don't have a backyard, there's no reason you can't enjoy outside time in the front of your home," says JP. The Anthony Wilder team recently added a sitting wall and flagstone patio right off the kitchen of a Bethesda mid-century modern house. The family has used it to host "front yard Fridays" with their neighbors and family.
If you don't have enough space for a terrace, you can add curb appeal with a portico. "It welcomes people to your home in any weather and is perfect for sheltering deliveries. But the design is important; the profile and scale should complement your existing façade. Details such as railings that sweep out like open arms can make all the difference," says Anthony.
April 13, 2020 | Categories: Outdoors