Design Build Remodeling Benefits Brought to Life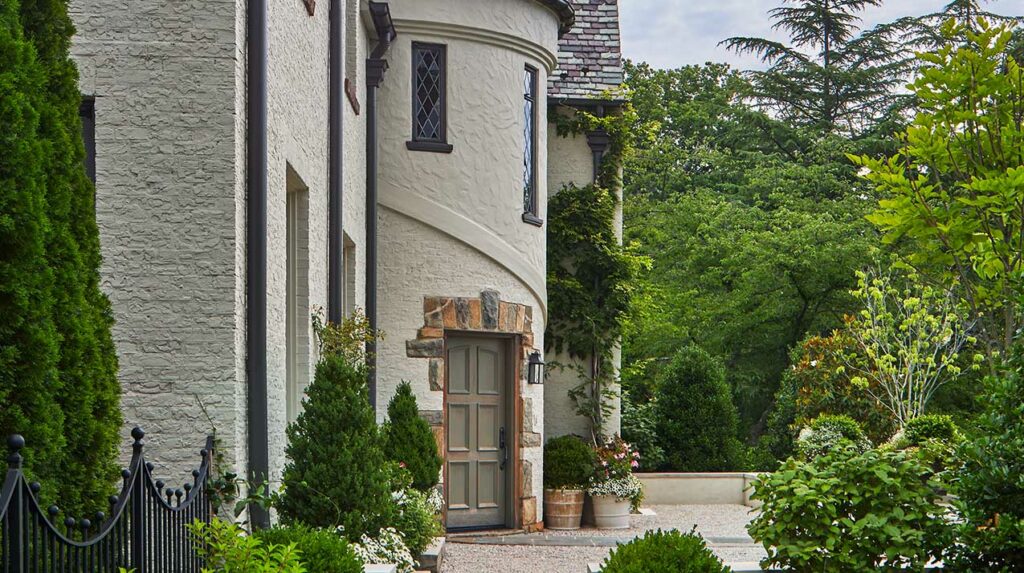 Homeowners in Bethesda contacted us for help re-imagining their traditional home to better reflect their personal style and improve its function for their lifestyle. Our unique design-build remodeling process allowed us to deliver this livable yet luxurious space where our clients can now congregate comfortably with family and friends.
The Method Behind the Remodeling Magic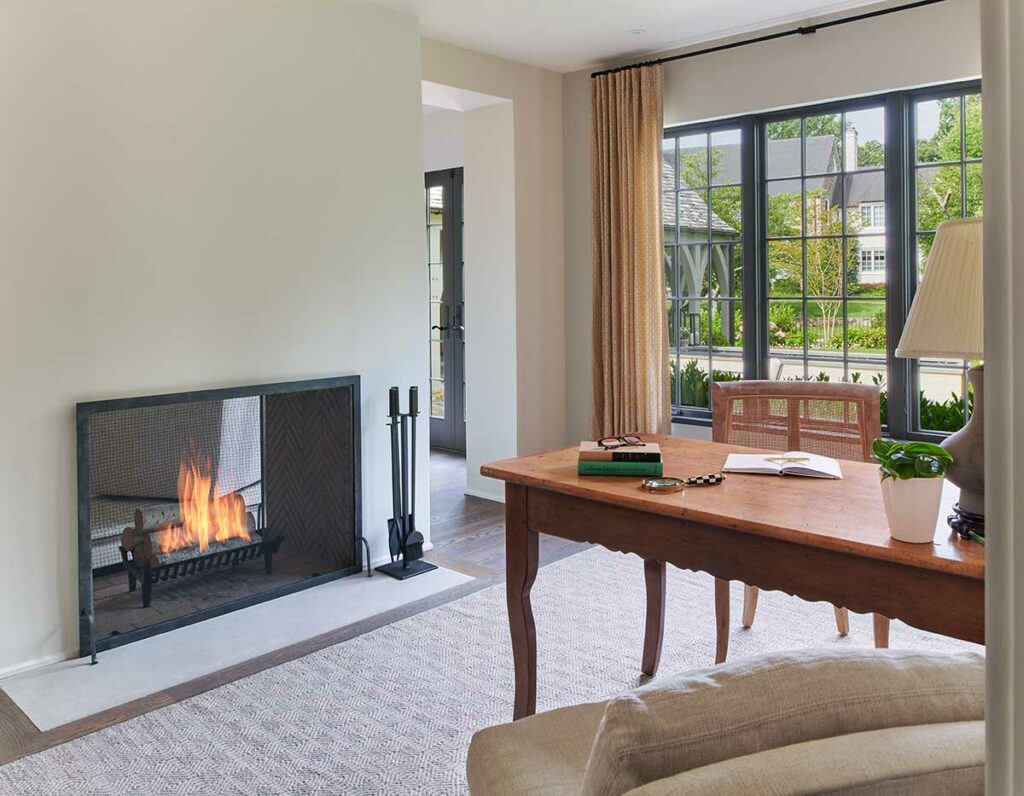 Although our approach to home remodeling has been honed over the years, one aspect has remained unchanged. When we initiate a project, we always take great care to learn everything we can about our clients' goals and aspirations for their home. While other firms may only focus on 'pains' and 'frustrations', our approach includes identifying our clients' vision for how they want to live. Once we know how a client wants to feel when they enter their home, and that they want to have a more seamless cooking experience, for example, we can incorporate solutions that may have been overlooked by simply solving for 'pains'.
In this case, these Bethesda homeowners had quite a laundry list, but their primary objectives were to transform their home into a more elegant, yet relaxing gathering place–inside and out. Equipped with this information, along with their vision, our architectural and design teams got started reimagining their home.
Home Design Inspiration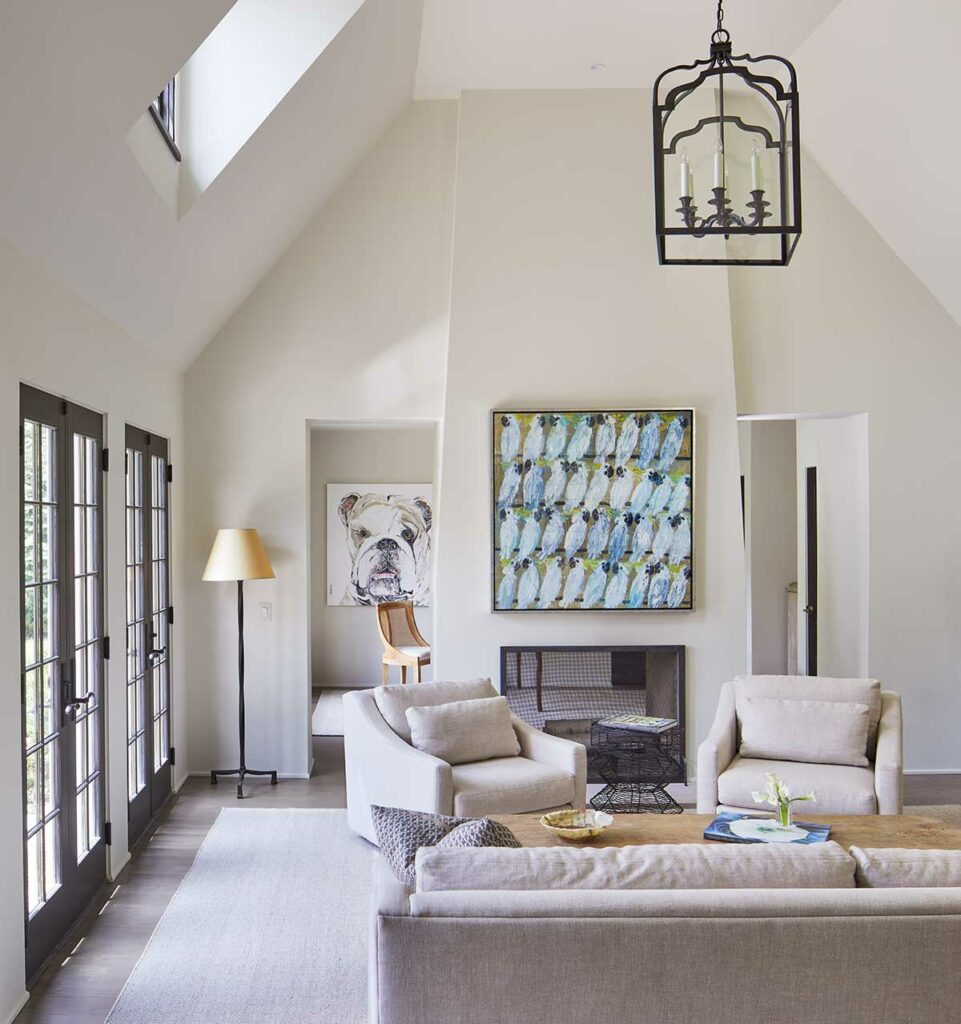 Despite the Chateauesque style of the home's exterior, our clients preferred a clean aesthetic that did not lend itself to traditional French detailing. Accordingly, our design teams kept trims to a minimum, forgoing door casings and keeping base molding to a bare minimum.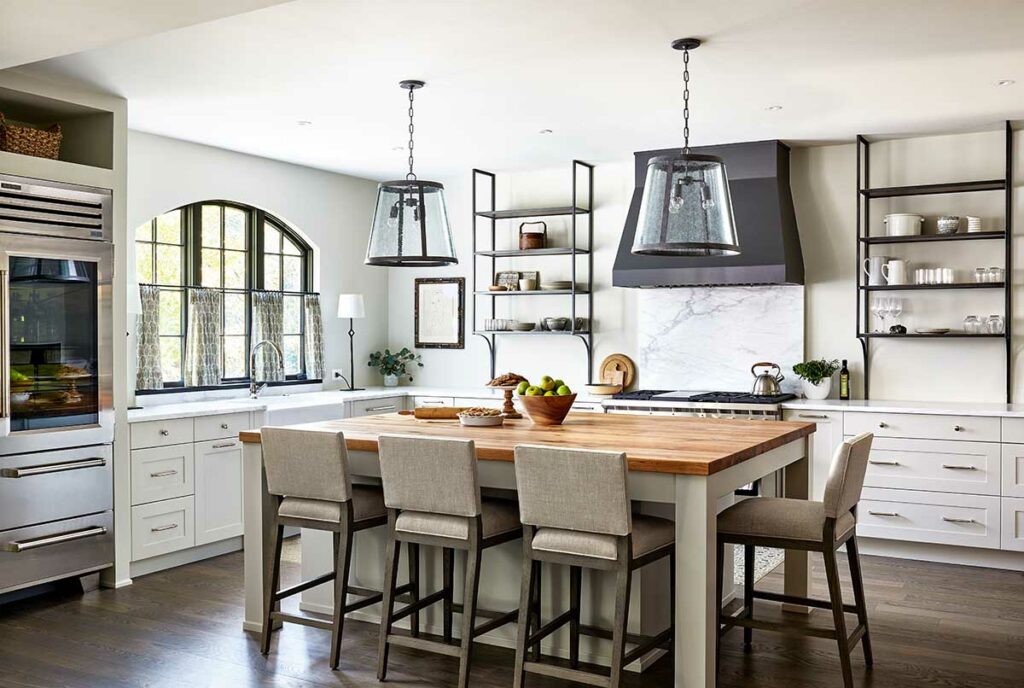 In the kitchen, our clients wanted a modern farmhouse design, to reduce counter clutter, and eliminate traffic congestion around the meal prep zone. To meet their needs we crafted a large island with seating on two sides, situated away from the cooking area.
The island's butcher block style countertop is made of reclaimed white oak planks from a nearby farm. To showcase the age and character of the wood, we filled the pits and grooves with a clear epoxy. Seeded glass pendants clad with oil rubbed bronze were hung over the island to provide additional task lighting and lend rustic charm to the space. Honed Calacatta marble countertops and backsplash create a simple and fresh aesthetic.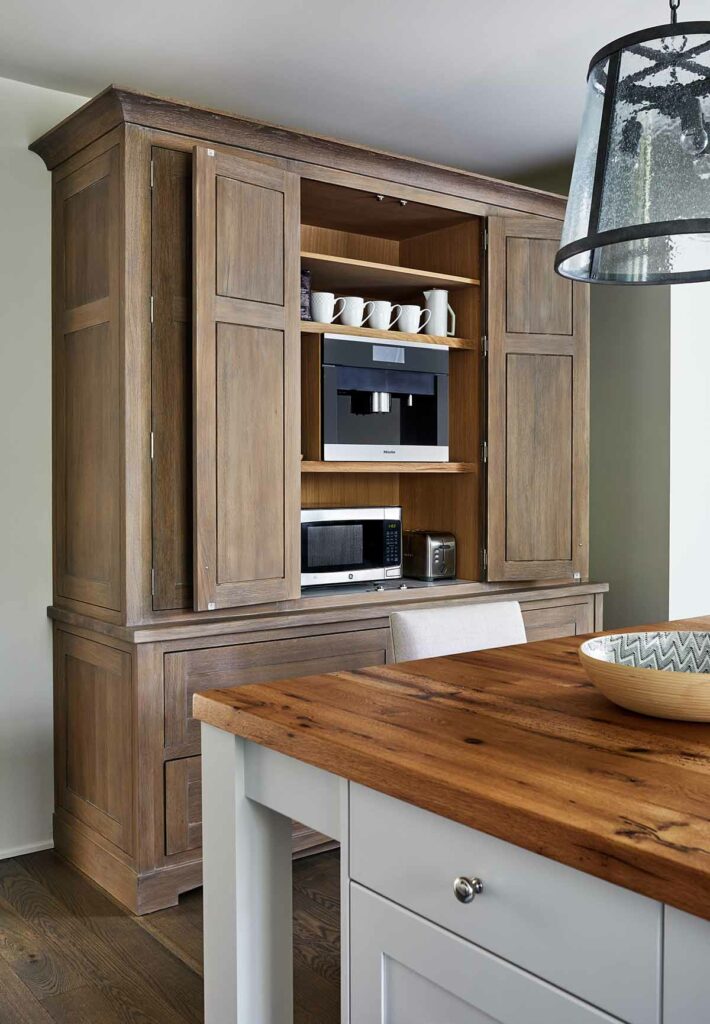 To keep clutter to a minimum, we designed a custom hutch to house a coffee bar as well as other small appliances. The warm color palette incorporates calm, neutral tones providing a feeling of unpretentious elegance.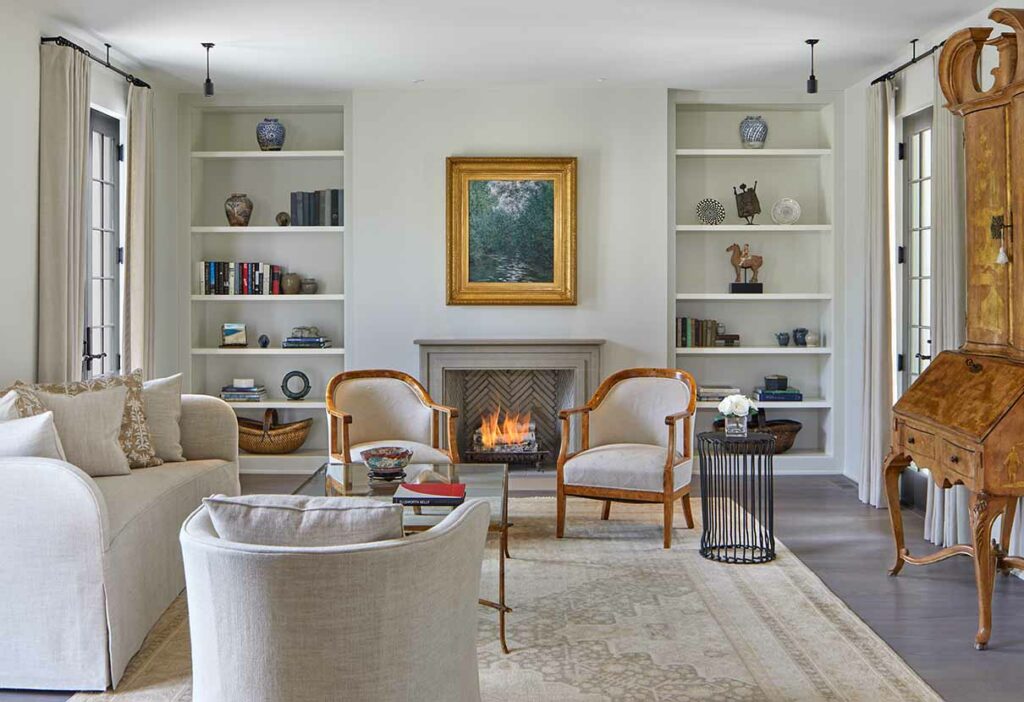 We worked from an old magazine clipping the client had collected as inspiration for the custom fireplace in the formal living room.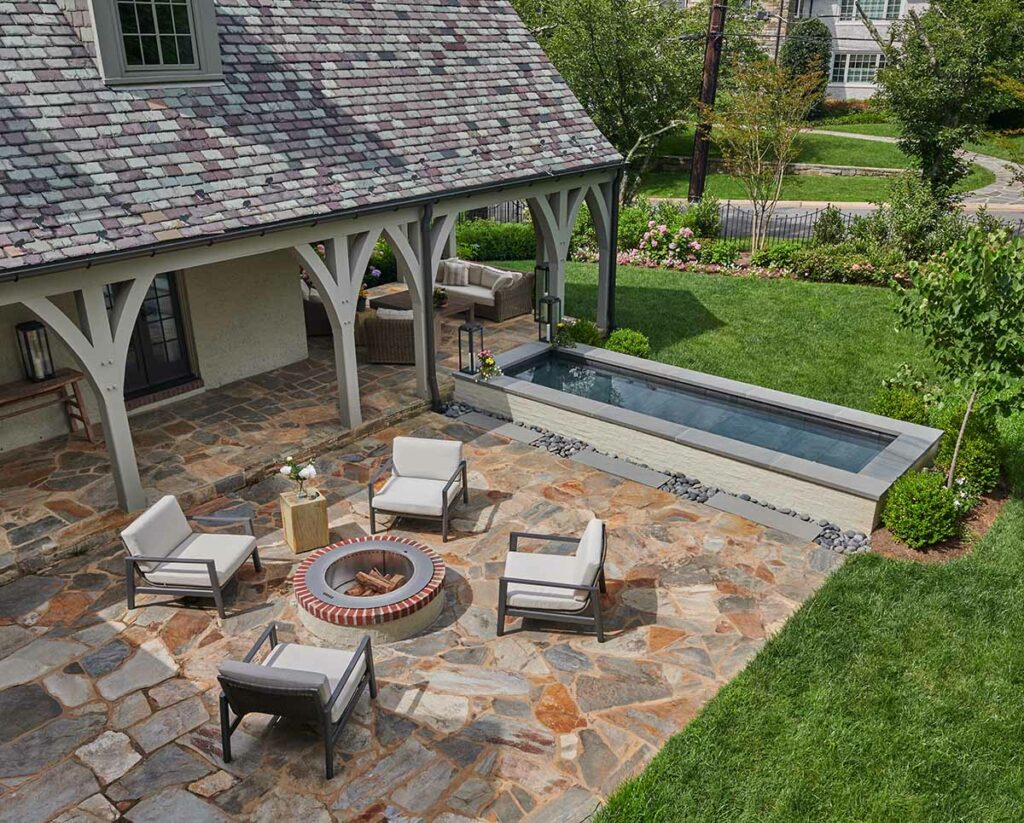 Inside and out, our architecture and design team tailored the spaces to meet our clients dreams and expectations. From the revamped primary bedroom and ensuite bathroom, to the firepit and French country-inspired water feature we added to the patio, every space was designed with our clients needs in mind.
Once our team members guided our clients through the design and selection processes, the project was handed off to our production team. Effective communication between these teams helped deliver a superior outcome for our clients.
Communication and Coordination Are Critical to Efficient Home Remodeling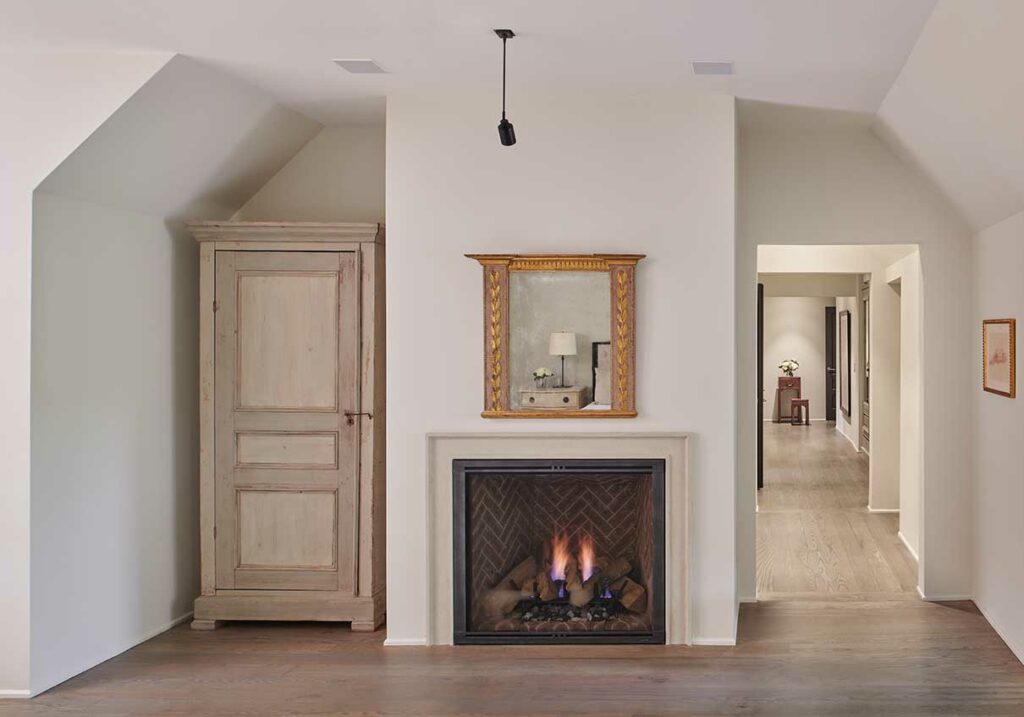 One of the most critical components for a successful home remodel is communication. Particularly in large scale projects, communication is the key to efficiency. Due to their complexity, needs and expectations have to be communicated clearly in advance. Without effective communication channels established, projects can quickly go astray, leading to costly errors and delays.
Homeowners attempting to manage a project of this scope and scale would be hard pressed to synchronize the efforts between the architects, designers, contractors, trade partners, and material and appliance distributors, not to mention the zoning and permitting departments for their local municipalities. For a whole home renovation, the design-build model holds the clear advantage.
At Anthony Wilder, our design-build process has been refined over decades. We have procedures in place to ensure the effective handoff from design to production–with all details coordinated and communicated to keep our projects on time and on budget.
Design-Build Excellence is All About The Details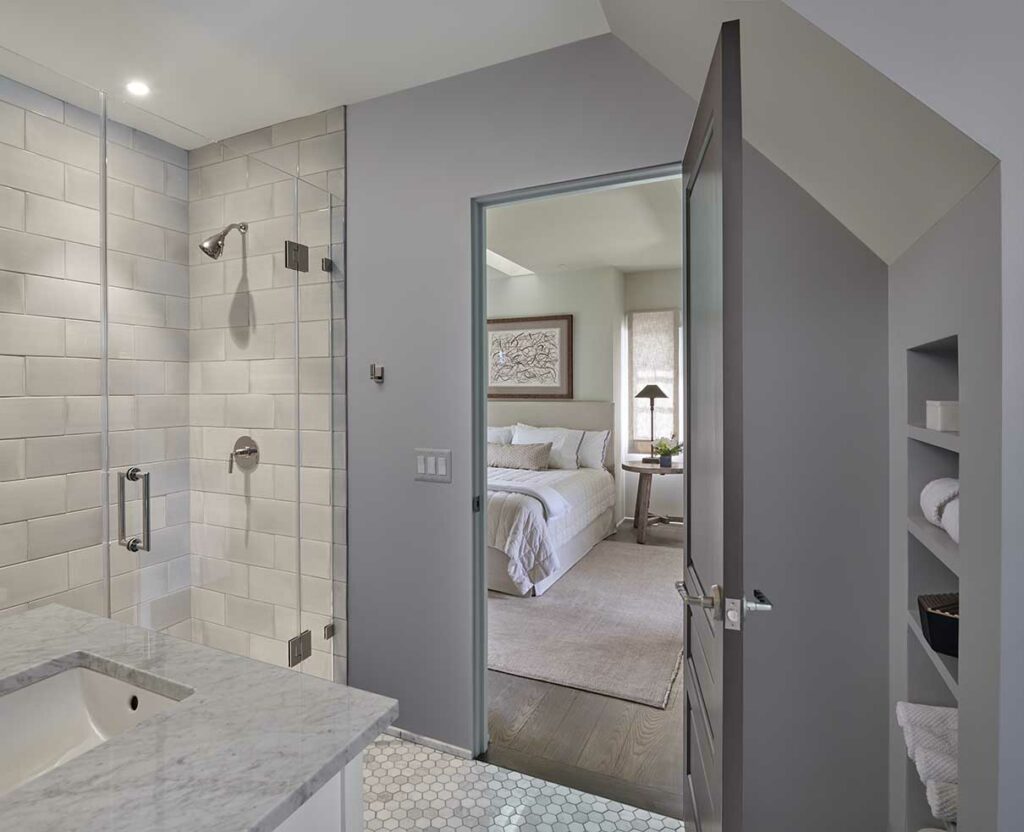 This Bethesda home transformation was a success on all accounts. Our clients love living in their remodeled home and feel like all of the goals they set out to accomplish have been achieved. Given the large scope of this project, this is a great illustration of the value of working with a design-build firm like Anthony Wilder.
At Anthony Wilder, we take great pride in delivering exceptional experiences for our clients through our streamlined and highly detailed design-build process. The credit for the success of this project goes to our talented team of professionals and the attention to detail we gave at every stage of the process–from the initial needs assessment, through our thoughtful design process, to the incredible craftsmanship you can see on display in the finished project photographs.
If you have a complex home renovation project you'd like to discuss, please contact us to start a conversation.
June 19, 2023 | Categories: Whole House